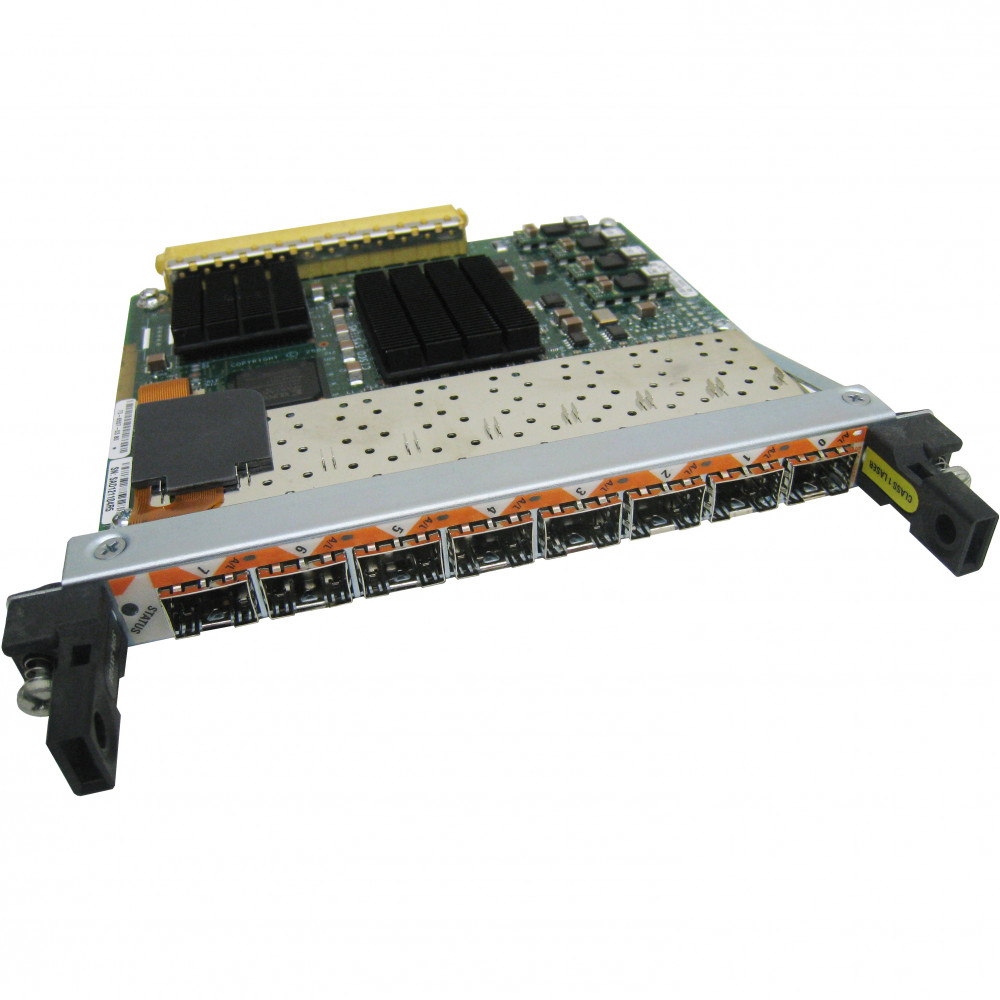 Cisco SPA-8X1GE-V2
Cisco 8-Port Gigabit Ethernet Shared Port Adapter
Product Highlights
Availability
Usually Ships Same Day if Ordered by 1PM PST
Twitter
Reddit
Facebook
Information
The 8-Port Gigabit Ethernet Shared Port Adapter is available on high-end Cisco routing platforms, offering the benefits of network scalability with lower initial costs and ease of upgrades. The Cisco SPA/SIP portfolio continues the company's focus on investment protection along with consistent feature support, broad interface availability, and the latest technology. The Cisco SPA/SIP portfolio allows deployment of different interfaces (packet over SONET/SDH [POS], ATM, Ethernet, etc.) on the same interface processor.


Specifications
Dimensions
0.8" Height x 6.8" Width x 7.3" Depth
Management
Cisco-class-based-QoS-MIB
MPLS-related MIBs
Ethernet MIB/RMON
Command-line interface (CLI)-controlled online insertion and removal (OIR)
Simple Network Management Protocol (SNMP) Inventory- and asset management-related MIBs:
Entity-MIB (RFC 2737)
Cisco-entity-asset-MIB Fault management:
Cisco-entity-field-replaceable unit (FRU)-control-MIB
Cisco-entity-alarm-MIB
Cisco-entity-sensor-MIB Physical interface management:
IF-MIB
Etherlike-MIB (RFC 2665)
Product Name
8-Port Gigabit Ethernet Shared Port Adapter
Product Type
Port Adapter
Expansion Slots
8 x SFP (mini-GBIC) Free
Application/Usage
Data Networking
Data Transfer Rate
1 Gbps Gigabit Ethernet Full-duplex
Weight (Approximate)
12.00 oz
Additional Information
Innovative design provides intelligent delivery of services
Modular, flexible, intelligent interface processors
You may also like...