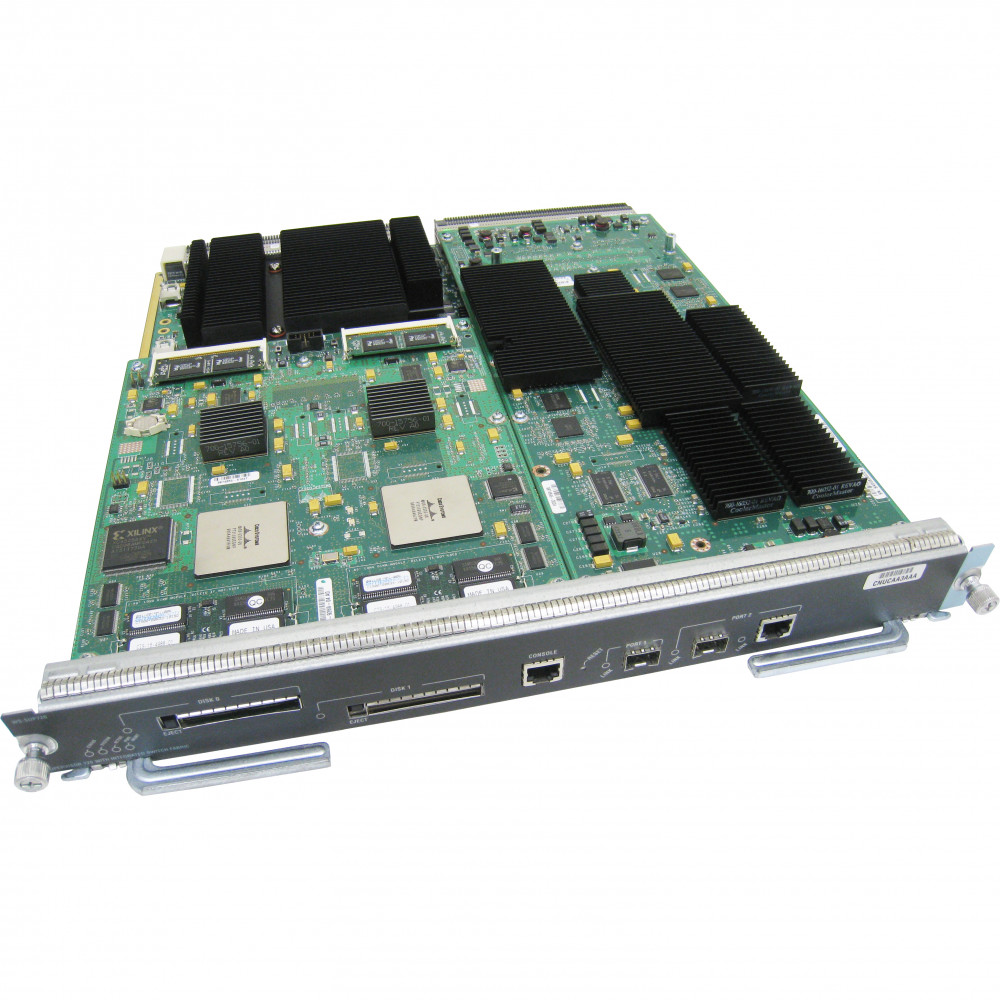 Cisco WS-SUP720-3B
Catalyst 6500/Cisco 7600 Supervisor 720 Fabric MSFC3 PFC3B
Product Highlights
Availability
Usually Ships within 2-3 Days
What's Included
512MB DRAM Route Processor (1x MEM-MSFC2-512MB)
512MB DRAM Switch Processor (1x MEM-S2-512MB)
64MB Flash Route Processor (1x BF-S720-64MB-RP)
64MB Flash Switch Processor (1x BF-S720-64MB-SP)
Twitter
Reddit
Facebook
Information
The Cisco WS-SUP720-3B is a supervisor engine module for Cisco Catalyst 6500 Series switches. It is designed to provide high-performance, scalability, and feature-rich capabilities for enterprise and service provider networks. The WS-SUP720-3B offers hardware-based forwarding and routing, as well as support for advanced features such as MPLS (Multiprotocol Label Switching), IPv6 (Internet Protocol version 6), and QoS (Quality of Service). It also includes redundant components for high availability and supports various interfaces and modules for connectivity options.


Specifications
ACL Hardware Entries
32000
IPv4 Routes (Static)
64000
IPv6 Routes (Static)
32000
QoS Hardware Entries
64000
Hot Swappable Modules
Yes
IPv4 Multicast Groups
16000
IPv4 Multicast Routes
32000
IPv4 Routes (Dynamic)
256000
IPv6 Multicast Groups
8000
IPv6 Multicast Routes
16000
IPv6 Routes (Dynamic)
128000
Dimensions (H x W x D)
1.75 x 14.4 x 16 in (4.45 x 36.6 x 40.6 cm)
Field-Replaceable Fans
Yes
Maximum Power Consumption
800 Watts
10/100/1000 Ethernet Ports
2
Supervisor Engine Redundancy
Yes
Redundant Power Supply Support
Yes
Field-Replaceable Power Supplies
Yes
Power over Ethernet (PoE) Support
No
Virtual Switching System (VSS) Support
Yes
You may also like...